FARE REVIEW EXERCISE 2023
Date: 18 September 2023
PTC grants an overall fare increase of 7.0%, which is a part of the fare adjustment deferred from 2022 FRE, and defers all of fare adjustment for 2023 FRE; deferment supported with additional Government subsidy
Adult commuters will pay 10 to 11 cents more per journey
Lower increase of 4 to 5 cents per journey for about 2 million concession card holders
Reduced hybrid monthly concession pass prices and new discounted monthly pass for Workfare Transport Concession Scheme will benefit 60,000 heavy public transport users
The fare adjustments will take effect on 23 December 2023
1 For this 2023 Fare Review Exercise (FRE), the fare formula output derived from the new fare adjustment formula is 12.0%, driven by the continued increase in energy prices, core inflation and strong wage growth in 2022. After adding the deferred fare quantum of 10.6% from the 2022 FRE, the maximum allowable fare adjustment quantum for the 2023 FRE is 22.6%.
2 To keep public transport fares affordable in this higher cost environment, PTC has decided against granting the full quantum. Instead, PTC will grant an overall fare increase of 7.0%, which is about a third, of the 22.6% maximum quantum. This is less than the 10.6% deferred from the 2022 FRE.
3 PTC will defer the remaining 15.6%-points to future FREs. To cover this deferred fare adjustment quantum, PTC has requested the Government to provide an additional subsidy of about $300 million for this year's FRE, which the Government has agreed to. This amount is higher than the additional subsidy of approximately $200 million that was provided after the 2022 FRE. The additional government subsidy will help to moderate the level of fare increase needed to keep pace with the higher cost of providing public transport while keeping fares affordable for commuters.
4 With this 7.0% fare adjustment, adult card fares will increase by 10 to 11 cents per journey. Adult cash fares, which are still accepted for bus rides, will increase by 20 cents. To better support vulnerable commuters, PTC has decided to implement a lower increase of 4 to 5 cents per journey for concession card fares while concessionary cash fares for bus rides will increase by 10 cents. About two million concession card holders will see a lower fare adjustment.
Further support for heavy public transport users who belong to concessionary groups
5 The PTC will also provide greater support for heavy users of public transport who belong to concessionary groups (students, seniors, full-time National Servicemen) by reducing the prices of hybrid (i.e. bus and train) monthly concession passes by up to 10%.
6 The Government will similarly reduce the price of the monthly concession pass for Persons with Disabilities (PwDs) from $64 to $58, similar to that for Seniors. In addition, the Government will introduce a new hybrid monthly concession pass for Workfare Transport Concession Scheme (WTCS) card holders to help lower-wage workers. This will be priced at $96 (or $32 off the price of the Adult Monthly Travel Pass), with the Government bearing the cost of the discount.
7 The changes to the monthly concession passes will benefit about 60,000 existing and expected new monthly pass holders. Existing hybrid monthly pass holders will see savings of up to $9.50 per month. With the Government's enhanced support for lower-wage workers, WTCS card holders will also enjoy savings by purchasing the new WTCS monthly concession pass.
8 The fare adjustments, which are applicable from 23 December 2023, are summarised as follows:
Fare Types

Category of Public Transport Users

Fare Adjustment for FRE 2023

Card Fares

Adults

10 – 11 cents

(10 cents for journeys ≤ 4.2 km, 11 cents for journeys > 4.2 km)

Students

4 – 5 cents

(4 cents for journeys ≤ 4.2 km, 5 cents for journeys > 4.2 km)

Seniors

Persons with Disabilities (PwD)

Workfare Transport Concession

Cash Fares

Adults

20 cents

Students

10 cents

Seniors

10 cents

PwD

10 cents

Adult Monthly Travel Pass

No Change

Bus/ Train Monthly Concession Passes

No Change

Hybrid Monthly Concession Passes

Up to 10% off current Pass Prices

($4.50 - $9.50 lower)

[NEW] Workfare Transport Hybrid Monthly Concession Pass

$96

($32 less than the price of

Adult Monthly Travel Pass)


Targeted support for lower-income households in the form of Public Transport Vouchers
9 In tandem with the higher fare increase, the PTC will require SBS Transit and SMRT Trains to make a larger contribution towards the Public Transport Fund. This year, PTC has decided that SBS Transit and SMRT Trains should respectively contribute 15% and 30% of their expected increase in revenue – a total of $15.85 million ($3.14 million and $12.71 million respectively) – to the Fund.
10 The PTC has recommended that the Government draw on the Public Transport Fund to provide further assistance to lower-income resident households in the form of Public Transport Vouchers.
Balancing Fare Affordability and Financial Sustainability
11 In 2022, the second decile income group households (11th to 20th percentile, i.e. lower-income households), and second quintile income group households (21st to 40th percentile; i.e. representing the average public transport user) spent 2.4% and 1.7% respectively of their monthly household income on public transport on average (Figure 1 in Annex A). After accounting for this year's fare and wage increases, the percentages that these households are expected to spend on public transport will remain similar to 2022.
"PTC is committed to ensuring commuters enjoy better rides with affordable fares, while keeping public transport system financially sustainable. While fares have to increase to account for the higher costs of providing public transport services, we strive to ensure that fares remain affordable especially to vulnerable commuter groups. The Council also deliberated on what we can do to reduce the impact of the fare increase on these groups. The Council hopes that the changes to the monthly concession passes would encourage more heavy public transport users to consider purchasing a pass to help reduce their public transport costs by $4.50 to $9.50 per month. The Public Transport Vouchers would also offer additional help on a targeted basis."
"Sustaining the public transport system is a shared responsibility among the Government, public transport operators and commuters. As our network expands and more people use public transport, the Government has continued to subsidise the cost of providing public transport at around $2 billion per year. Public transport operators also continue to strive for greater efficiency in their operations to garner more cost savings. Fares must keep pace with the cost of providing public transport services across a larger network, and in a higher cost environment. For this FRE, commuters will see a fare increase of 7.0%. The PTC is heartened that the Government will extend an additional $300 million this coming year to cover the deferred 15.6%-points of the maximum allowable fare quantum. We will ensure that public transport remains affordable for commuters, but we seek commuters' understanding that the fare increase is necessary to meet rising costs and ensure that we can continue to provide better salaries and training for about 22,000 Public Transport workers," said Ms Janet Ang, Chairperson, Public Transport Council.
Annex A: Factsheet for Fare Review Exercise 2023
Annex B: Bus and Train Fares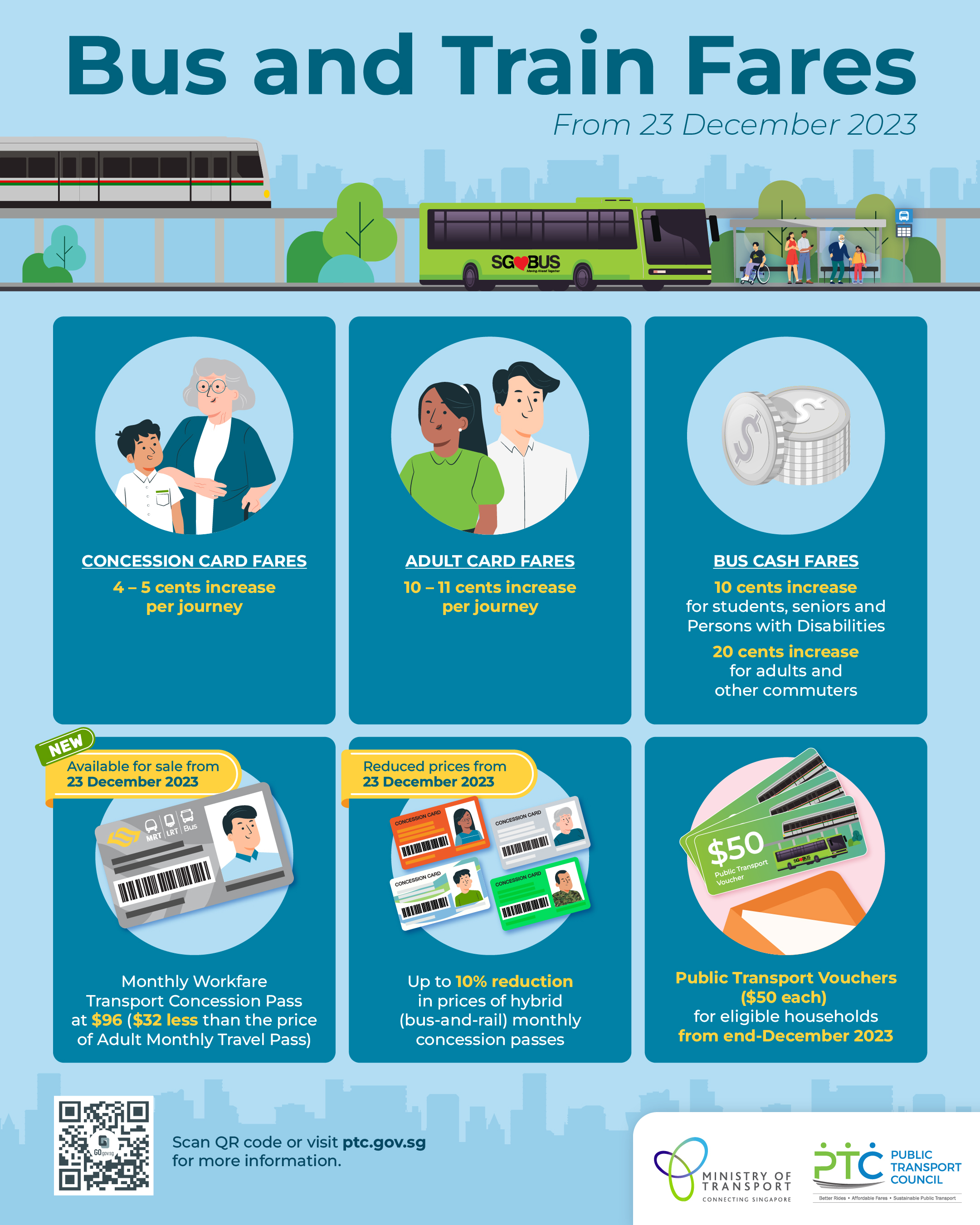 Download FRE 2023 Annex A and Annex B (PDF, 297KB) (PDF, 303 KB)