Commuters Satisfied with Public Transport in 2020
Date: 2 February 2021
Commuters continued to be satisfied with public transport in 2020, based on the annual Public Transport Customer Satisfaction Survey (PTCSS) commissioned by the Public Transport Council (PTC).
2 The survey, conducted from October to November 2020, showed that satisfaction levels for public transport remained consistent at 7.8 (out of 10) in 2020, similar to scores in the past four years, even though the proportion of commuters who gave a score of 6 and above, dipped from 99.4% in 2019 to 97.6% in 2020.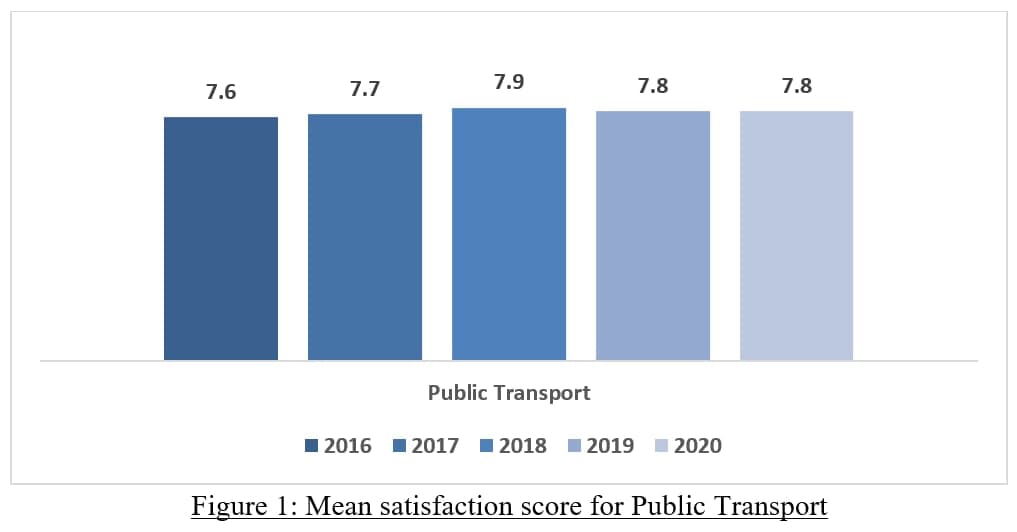 Largest Improvement in Satisfaction with Safety & Security for MRT services
3 Commuters' mean satisfaction with MRT services increased from 7.7 (out of 10) in 2019 to 7.9 in 2020. The improvement was seen across almost all eight service attributes, such as waiting time, service information, stop/station accessibility, travel time, customer service and safety and security.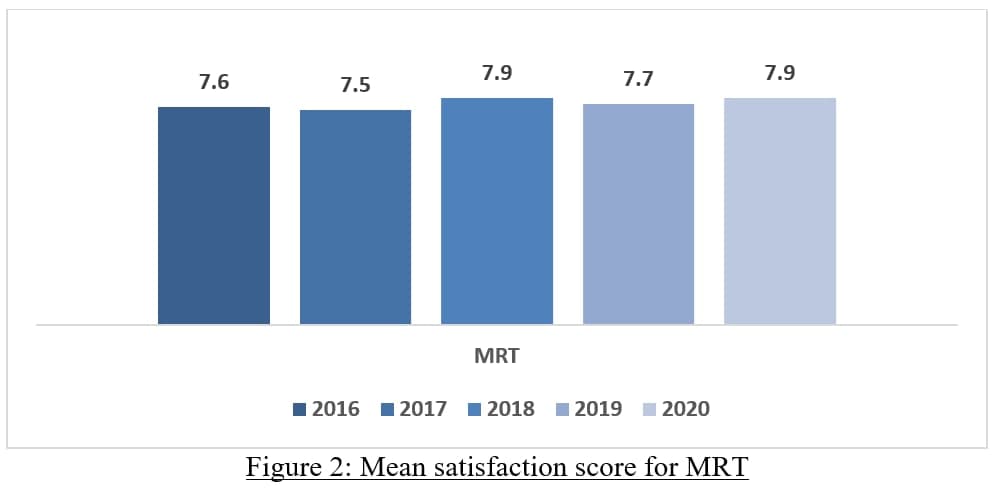 4 Satisfaction with Safety and Security of MRT services saw the largest improvement from 7.7 in 2019 to 8.3 in 2020. One possible factor could be the deployment of public transport workers and transport ambassadors to guide and assist commuters to ensure orderliness and safety.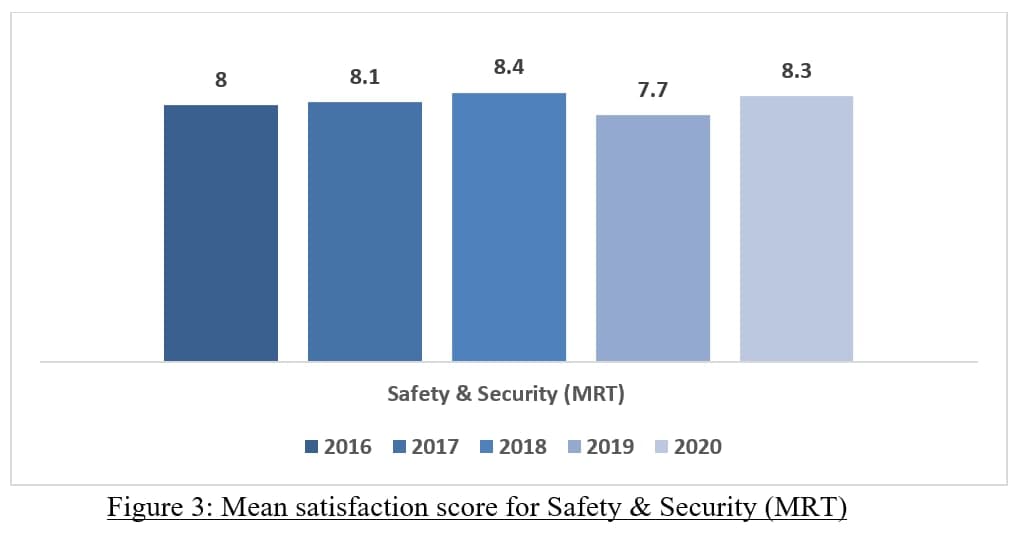 5 Besides safety and security, service attributes such as service information and travel time also saw marked improvements in their scores, up from 7.4 in 2019 to 7.8 in 2020 and 7.5 in 2019 to 7.8 in 2020 respectively.
Satisfaction with Buses remains high
6 Commuters also registered high satisfaction with bus services in 2020, with a mean satisfaction score of 7.8 (out of 10).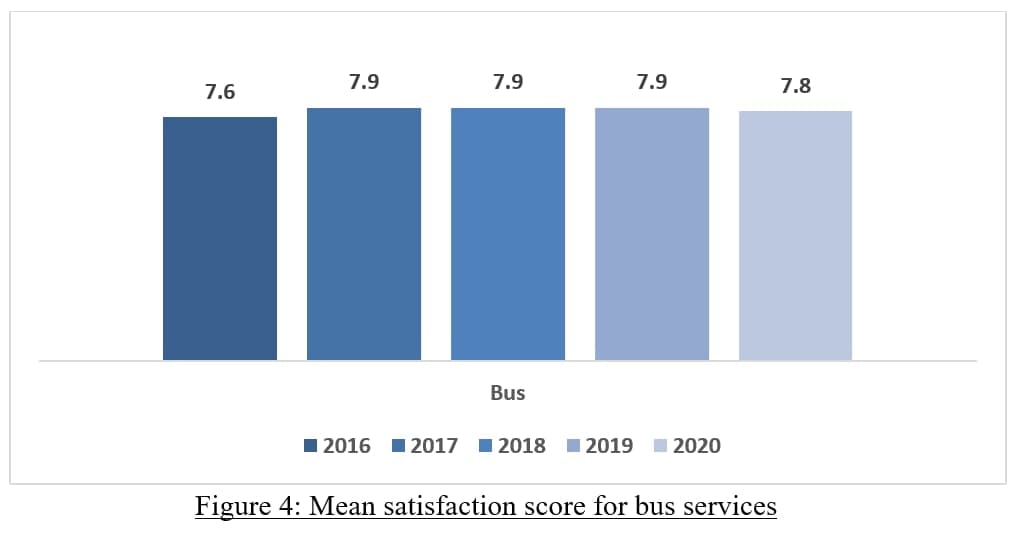 7 Commuters' satisfaction with buses could be seen in the consistent mean scores for most of the service attributes. Notably, there was a marked improvement in the mean satisfaction score for Bus Interchange/Bus Stop Accessibility from 7.5 in 2019 to 8.0 in 2020.
8 Waiting Time, which commuters considered as one of the most important service attributes, fell one point for buses, from 8.0 in 2019 to 7.0 in 2020. The drop could be because of the adjustments to bus services to match lower commuter demand due to COVID-19. Some of these adjustments were restored subsequently.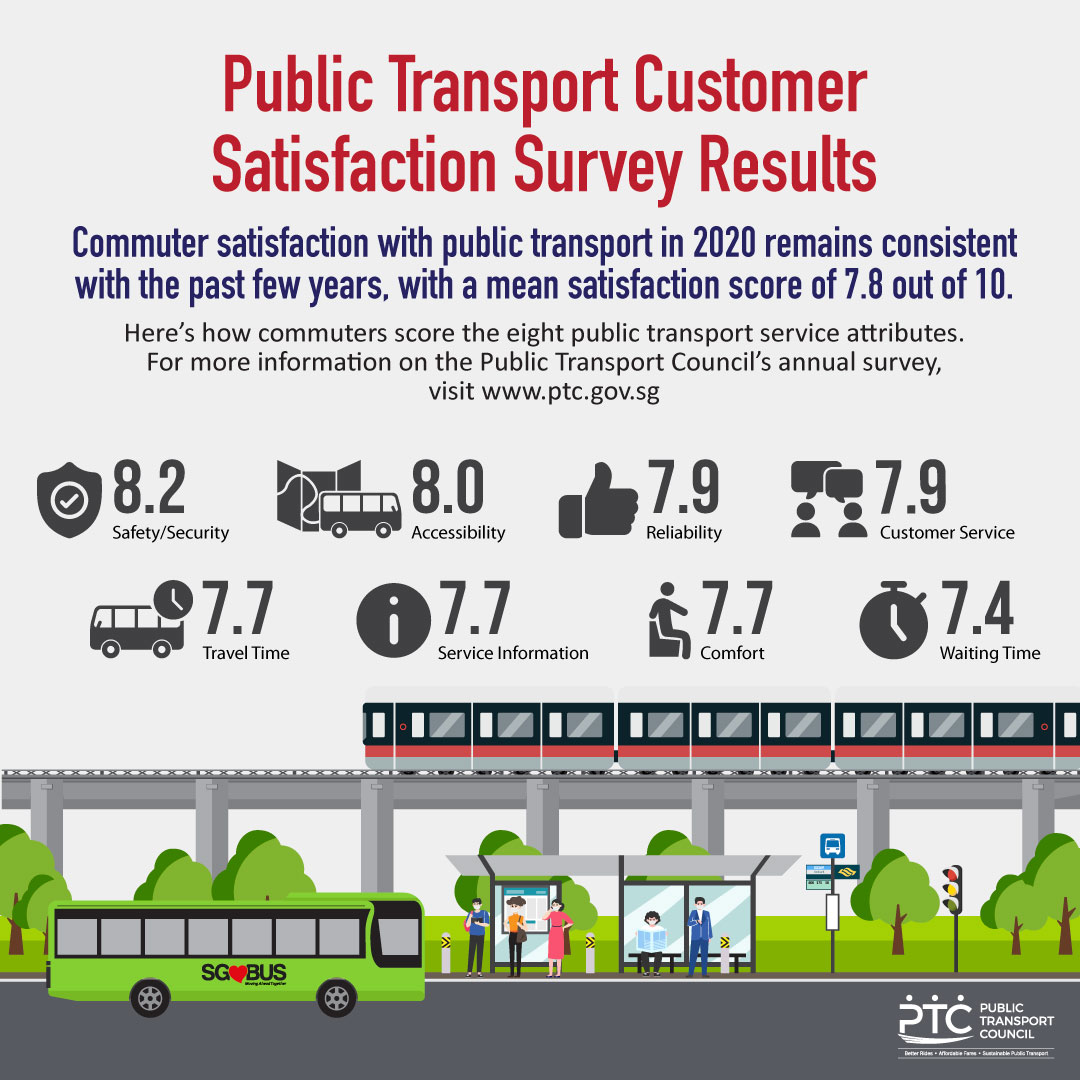 About the Public Transport Customer Satisfaction Survey
The PTCSS was carried out by Nexus Link Pte Ltd, an independent market research consultant, between early October and late November 2020 with 4,110 commuters. QR codes were placed at MRT stations, bus interchanges and bus stops for commuters to participate in the self-administered survey online. This is an annual survey conducted since 2006. The aim of the survey is to understand commuters' expectations and needs, as well as to identify areas for improvement.
Click the attached PDF for Annex: Factsheet
Download Annex - PTCSS 2020 (PDF, 453 KB)