Commuters Satisfied with Point-to-Point services
Date: 4 February 2022


Commuters continued to give high scores for Point-to-Point transport (P2P) services in 2021, a consistent trend for the past three years, according to the Public Transport Council's 2021 Point-to-Point Transport Services Customer Satisfaction Survey (PCSS). P2P services received a mean satisfaction score of 8.4 (out of 10) in 2021, comparable to 8.4 in 2020 and 8.1 in 2019 (Please see Figure 1). P2P services refer to services provided by taxis and private-hire cars (PHC) and all scores in the survey were measured on a scale of 1 to 10, with 10 being "Very Satisfied".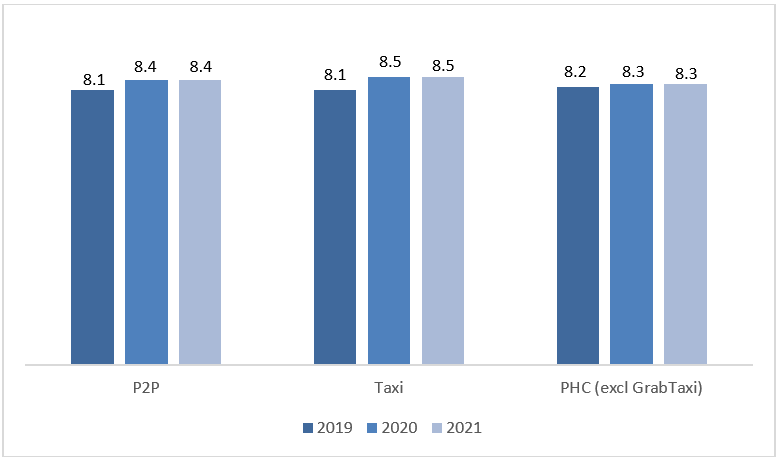 Figure 1: Mean Satisfaction Score for P2P services

2 Commuters' overall satisfaction with taxi services remained high at 8.5, which is the same as 2020. The mean satisfaction scores for the eight service attributes covered by the survey were all above 8.0. Safety topped the scores at 8.8 and Driver's Knowledge of Routes came in second at 8.7, while Customer Service and Taxi Stand Accessibility scored the lowest at 8.1. For all service attributes, taxis scored marginally better than PHCs.

3 PHC services also maintained a mean satisfaction score of 8.3 in 2021, which is the same as the score obtained in 2020. Except for Waiting Time and Customer Service which have a mean satisfaction score of 7.6 and 7.8 respectively, the mean satisfaction scores for the other six service attributes for PHC were above 8.0. Safety and Ease of Booking were the highest scored service attributes at 8.6 and 8.5 respectively, consistent with that for 2020.

4 Safety continued to be ranked the most important attribute (by mean score) for both taxis and PHCs. This was followed by Ease of Booking and Driver's Knowledge of Routes.

5 Similar to survey results from previous years, respondents indicated that pricing was a key decision factor in determining their choice(s) of P2P services. Apart from pricing, some commuters indicated that they chose taxis over PHCs due to availability, safety and driver's knowledge of route. Meanwhile, other commuters highlighted that they preferred PHCs over taxis due to ease of use of app, ease of payment and its rewards system.

About the Point-to-Point Transport Services Customer Satisfaction Survey

The Point-to-Point Transport Services Customer Satisfaction Survey was commissioned by the PTC and conducted from 19 August to 3 September 2021 with 3,332 taxi and PHC services users. Survey respondents were those who take taxi/PHC three times or more in a typical week or had used the P2P services on the same day of survey completion. The survey was carried out by Consulting Group - Asia Insight Pte Ltd, an independent market research consultant. The survey aims to measure users' satisfaction with P2P services, better understand their expectations as well as identify areas for improvements. It is typically conducted in August/September to maintain consistency in survey period, and the results are released in February. Please refer to Annex A for more details.


Download Annex A - Point-to-Point Transport Services Customer Satisfaction Survey 2021 (PDF, 423 KB)