Fare Review Exercise 2022
Date: 12 October 2022
FARE REVIEW EXERCISE 2022
Public transport fares to increase due to spike in energy prices, but bulk of increase deferred with additional Government support
Half of Singaporeans will see a small fare increase of 1 cent for every journey
Fare increase for adults capped at 5 cents for every journey
The Public Transport Council (PTC) has decided to grant a fare increase of 2.9% for the 2022 Fare Review Exercise (FRE), balancing the need to keep fares affordable for commuters in a period of rising inflation, while ensuring the sustainability of Singapore's public transport system amidst rising costs.

2 The cost drivers for public transport rose significantly from 2020 to 2021. The global energy crunch in 2021 caused energy prices to increase by 117%. This, together with increased manpower costs and inflation, led to a maximum allowable fare adjustment quantum of 13.5%, according to the PTC's fare adjustment formula. PTC has decided to apply the same principle as FRE 2021 and continue to exclude the Network Capacity Factor from the computation of this year's fare adjustment quantum.

3 The fare increase is 2.9% this year, and the remaining 10.6% of this year's fare adjustment quantum will be carried over to future FREs. This is made possible by the Government's provision of an additional subsidy of about $200 million in 2023. This will help to mitigate the impact of the fare increase on commuters.
4 Adult card fares will increase by 4 to 5 cents per journey depending on distance travelled. The increase in concession card fares will be capped at 1 cent per journey to keep fares lower for students, senior citizens, lower-wage workers, and persons with disabilities. This means that around two million commuters, or half of Singaporeans, will see a small fare increase if they pay per journey. There will be no change to the prices of monthly concession passes and adult monthly travel passes.

5 The adjustment in fares applicable from 26 December 2022 is summarised as follows: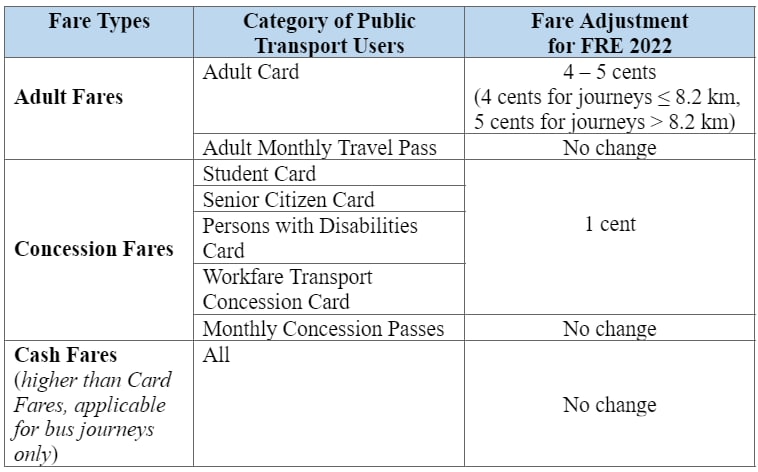 Public transport fares remain affordable with support from Public Transport Fund
6 The public transport affordability indicator shows that on average, households in the second quintile (21st to 40th percentile), representing the average public transport user, spent 1.8% of their household income on public transport in 2021 while households in the second decile (11th to 20th percentile), i.e. lower-income households, spent 2.5% of their household income on public transport (Fig. 1 in Annex A) on average. Monthly public transport expenditure for these households will likely be maintained at similar levels, after accounting for this year's 2.9% fare increase and also wage increases this year.
7 As a way of sharing with commuters any expected increase in fare revenue, the Public Transport Operators are required to contribute, based on their profitability, a portion of this increased revenue towards the Public Transport Fund. This year, PTC has decided that SBS Transit and SMRT Trains should respectively contribute 5% and 20% of their expected increase in revenue which will equate to $3.44 million ($0.37 million and $3.07 million respectively) to the Public Transport Fund.
8 The Government will again make available 600,000 Public Transport Vouchers (PTVs) worth $30 each from the Public Transport Fund. The PTVs will further ensure that fares remain affordable for lower- to lower-middle income households, beyond the levels tracked by the public transport affordability indicator.
A sustainable public transport system for current and future generations
9 As of September 2022, public transport ridership has recovered to about 80% of pre-pandemic levels. There have also been significant improvements to the quality and reliability of the public transport system in the last few years. The Government continues to invest heavily in maintaining the high standard of public transport and enhancing the connectivity of our public transport network. The rail network will expand from 230 km today to approximately 360 km by the early 2030s.
10 PTC is currently reviewing effectiveness of the current fare adjustment formula and mechanism, in consideration of the changes in the public transport industry and commuting patterns. PTC will complete the review next year and apply the new fare adjustment formula and mechanism from the 2023 FRE onwards.
11 "The Public Transport Council recognises concerns that Singaporeans have over increasing costs of living and the impact of rising inflation. These concerns weighed heavily in our deliberations for the fare review exercise where the Council has to strike a delicate balance between fare affordability for our public transport commuters and financial sustainability of the public transport system. Amidst unprecedented rising costs and economic volatility, the Council recognises the imperative to ensure that public transport continues to be reliable, convenient and affordable for Singaporeans. We will ensure that public transport remains affordable for commuters, but we seek commuters' understanding that some fare increase is still necessary to meet rising energy costs, and ensure that we can continue to provide better salaries and training for about 20,000 Public Transport workers. I would like to assure commuters that the Council will continue to protect the interest of commuters, especially those who are more vulnerable, and support the Government's measures to help lower-income households," said Ms Janet Ang, Chairperson, Public Transport Council.
Annex A: Factsheet for Fare Review Exercise 2022
Annex B: Bus and Train Fares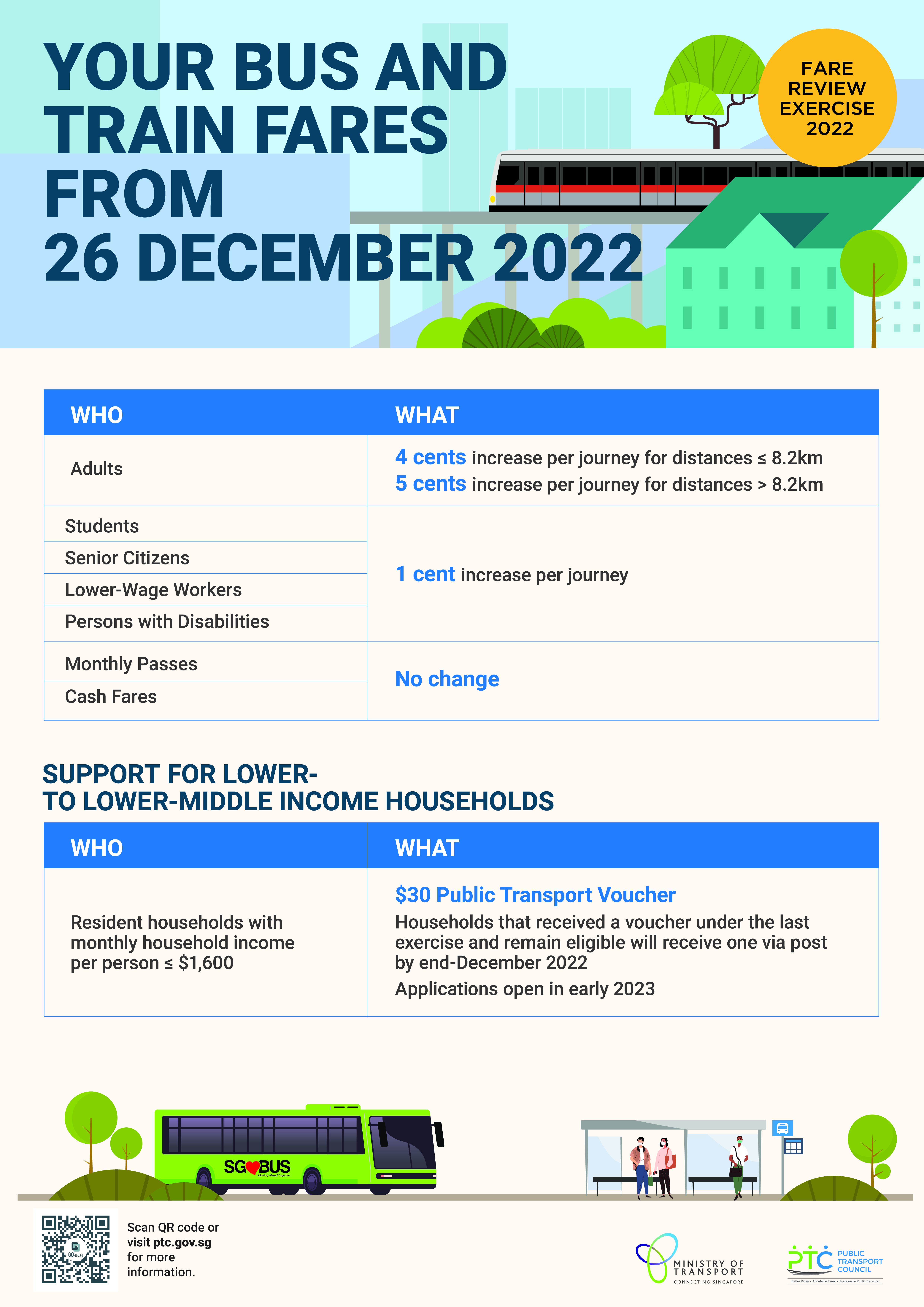 Download PTC 2022 Fare Review Exercise (Annex A and B) (PDF, 344 KB)