2020 Fare Review Exercise
Date: 4 September 2020
2020 FARE REVIEW EXERCISE
No change to public transport fares
to help commuters cope with impact of COVID-19
COVID-19 has hit Singaporeans hard. To help public transport commuters mitigate the impact of COVID-19 and the economic downturn, the Public Transport Council (PTC) has decided not to grant any fare adjustments in this year's Fare Review Exercise (FRE). Commuters will hence see no change to their bus and train fares from end 2020 until the next FRE.
2 Based on the fare review formula applicable from 2018 to 2022, the maximum allowable fare adjustment quantum for FRE 2020 is 4.4% (please refer to the Annex for the computation details). With this decision, the full fare adjustment quantum will be rolled over to the next FRE in 2021. PTC will continue to monitor the macroeconomic indices and prevailing economic conditions closely. In making its decision for 2021 FRE, the Council will also continue to balance fare affordability and financial sustainability.
Impact of COVID-19
3 According to advance estimates released by the Ministry of Trade and Industry in July this year, Singapore's economy shrank by 41.2 per cent in the second quarter compared with the first, due to the circuit breaker measures and weak external demand amid the global economic downturn. The Government has announced support measures in four Budgets amounting to nearly $100 billion to help Singaporeans and Singapore businesses through the COVID-19 pandemic.
4 The decision not to grant any fare adjustment this year was made even though COVID-19 has significantly affected the public transport operators. Despite the drastic fall in whole-day ridership by around 75% during the circuit breaker from April to June 2020, public transport operators had continued to run trains and buses largely at pre-COVID frequencies, to help commuters reach their destinations safely and smoothly. Public transport operators had also stepped up cleaning regimes. All these measures come at a significant cost to the public transport operators amidst the sharp drop in fare revenue.
5 Prior to COVID-19, the Government was expected to spend close to $1 billion to renew and upgrade rail operating assets, and another $1 billion to subsidise public bus services annually over the next five years. That translates to more than $1 in subsidies for every journey taken. With the impact of COVID-19, revenues have fallen further, and we expect Government subsidies to be even higher this year.
Mid-Term Review of NCF Component to be Conducted
6 The sharp and sustained drop in ridership due to COVID-19 significantly affects the Network Capacity Factor (NCF) component in the fare adjustment formula. However, the NCF, which was introduced in 2018, is not designed for such exceptional circumstances. PTC will therefore conduct a mid-term review on how NCF ought to be applied, or whether it should be partially or totally excluded, when considering its effect on next year's fare adjustment. PTC will complete this review before the next FRE in 2021.
7 Besides COVID-19's impact on travel patterns, we have seen other changes to the public transport landscape. The rail network has been expanding steadily, and productivity-enhancing technology has been advancing rapidly. At the same time, the Government is providing significant operational subsidies to sustain the public transport network.This mid-term review is therefore timely to ensure that fare adjustment formula remains relevant and responsive.
Support for Lower-Income Households
8 The Government remains fully committed to ensuring that sufficient assistance is available for commuters in need. The Government will extend the application deadline for the 2019 Public Transport Voucher (PTV) Exercise from 31 October 2020 to 31 January 2021, to give eligible households more time to apply for the vouchers at their local community centres/clubs (CCs). To further mitigate the impact of the economic downturn, around 30,000 low-income households under the ComCare Short-to-Medium-Term Assistance and Long-Term Assistance schemes will also progressively receive PTVs directly.
9 "The COVID-19 pandemic is an unprecedented crisis. We recognise the exceptional economic circumstances faced by Singaporeans and have decided to keep bus and train fares unchanged to help ease the financial burden on commuters during this challenging period. Beyond the immediate fare freeze for this year, we will also closely monitor how the COVID-19 crisis develops and its impact on Singaporeans. Our priority will be to safeguard commuters' interests, while ensuring a financially sustainable public transport system that continues to meet the needs of Singaporeans in the years to come," said Mr Richard Magnus, Chairman, Public Transport Council.
Annex A: Factsheet for 2020 Fare Review Exercise
Annex B: Bus and Train Fares (remain unchanged)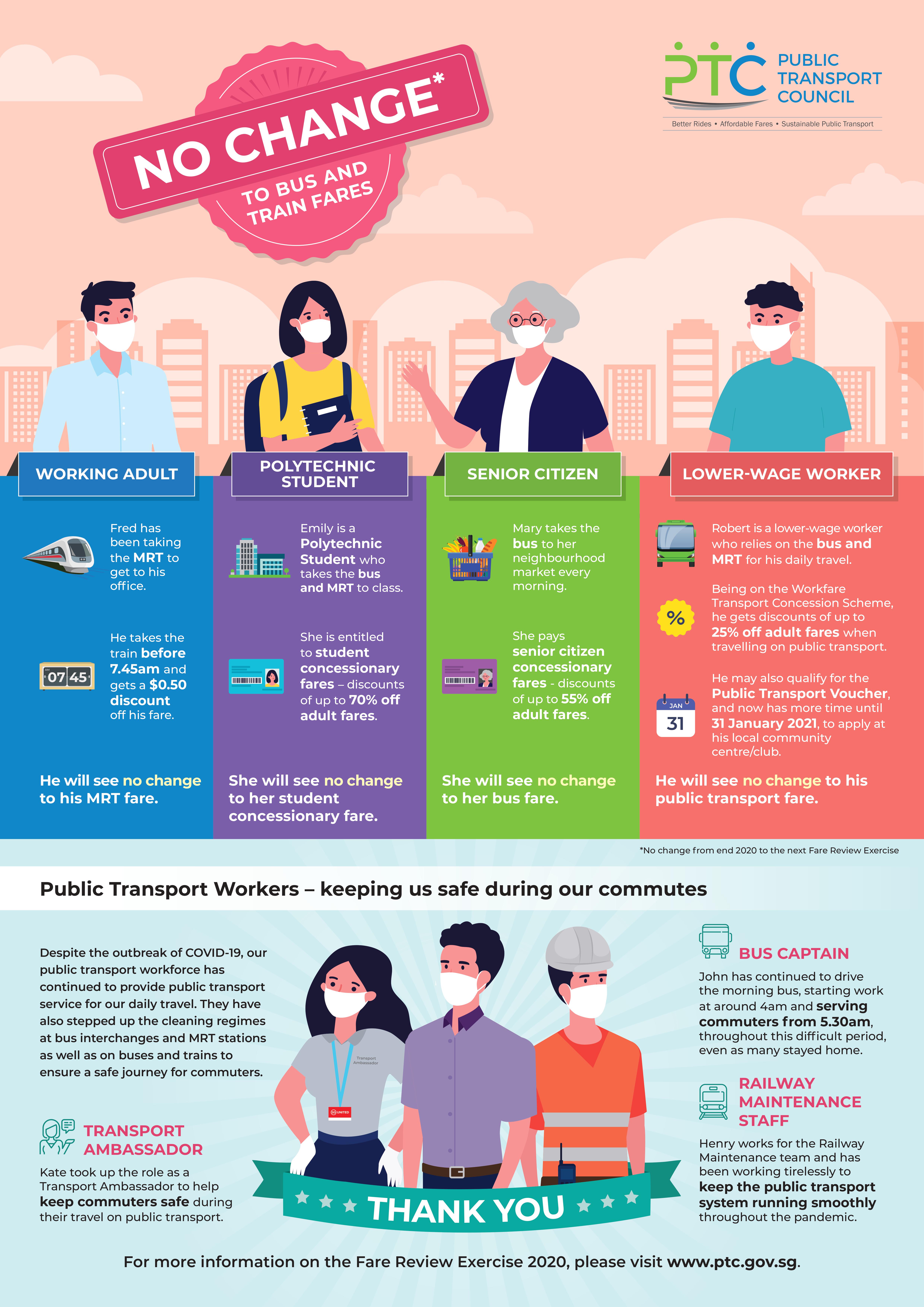 Download 2020 Fare Review Exercise - Annex A and B (PDF, 783 KB)