2019 Fare Review Exercise
Date: 8 October 2019
Enhanced Concessions for Polytechnic and other Diploma Students;
Increased Assistance for Lower-Income Groups
Up to $1.54 fare savings per journey for more than 80,000 polytechnic and other diploma students
Card fare adjustments capped at 4 cents for around 2 million concessionary commuters
9-cent adjustment for adult card fares
The Public Transport Council (PTC) has decided in the 2019 Fare Review Exercise to grant enhanced concessions to ensure fare affordability for more Singaporeans. This is despite the higher cost pressures faced by public transport operators from rise in energy prices worldwide in 2018, local manpower wages and other macroeconomic factors. The fare formula protects commuters' interests and prevents public transport operators from fully passing down their cost increases to commuters.
Taking into consideration the various factors, the PTC will implement the fare adjustment in accordance to the fare formula. The adjustment in fares, applicable from 28 December 2019, is summarised below: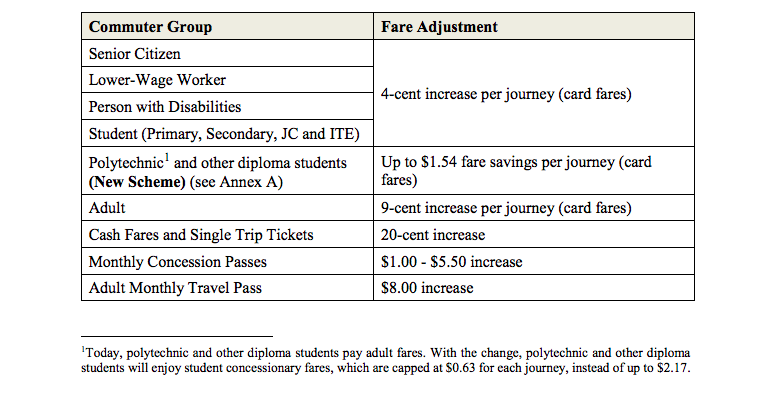 Balancing Affordability with Long-Term Financial Sustainability
Card fare adjustments capped at 4 cents for around 2 million concessionary commuters
Fares have become more affordable for Singaporeans over time. The monthly public transport expenditure as a percentage of household income for those in the second quintile household income group has dropped from 2.7% in 2008 to 1.7% (in 2018) over the past ten years. Over the same period, those in the second decile household income group saw a decrease from 4.1% to 2.4% (See Annex B).
Singapore's bus and rail fares also remain one of the most affordable among cities in the world [*]. A comparison of 10km journey fares across 12 cities, based on public sources, showed that Singapore's adult, senior citizen, and student fares remain affordable after the 2019 Fare Review Exercise (FRE) fare adjustments.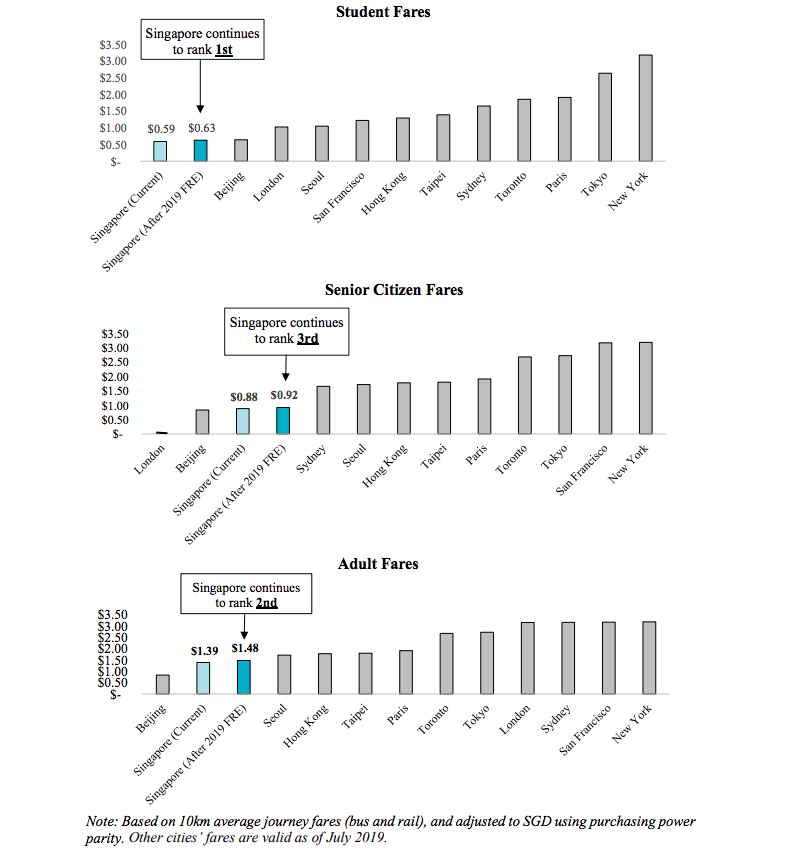 The Government has stated that it will continue to subsidise close to $1 billion per year to renew rail operating assets, and another $1 billion to subsidise bus operations every year. This translates to more than $1 in subsidies for every journey.
In considering the fare adjustments, the PTC continued to safeguard the interest of the concession groups. Around two million commuters, or over 1 in 2 Singaporeans, will see a lower fare adjustment of 4 cents and below. The PTC will also extend student concessionary fare to polytechnic and other diploma students. More than 80,000 polytechnic and other diploma students will enjoy savings in card fares of up to $1.54 per journey.
To further help lower-income households, the PTC will mandate SBS Transit and SMRT to contribute about $3.89 million ($1.88 million and $2.01 million respectively), to the Public Transport Fund. This is more than double last year's contribution of $1.75 million.
All commuters will continue to enjoy the pre-peak discount of up to 50 cents on their card fares, when they tap in at any rail station before 7.45am on weekdays (excluding public holidays). Commuters can also cut down on their travelling time and/or costs by taking advantage of the transfer rules to make multiple rail transfers or rail-bus-rail transfer.
Stronger Support for Lower-Income Groups
To help lower-income groups cushion the impact of the fare adjustment, the Government will utilise the Public Transport Fund to make available 50% more Public Transport Vouchers (PTVs) (up from 300,000) and increase the value of each voucher to $50 (up from $30 in the 2018 PTV Exercise).
In line with PTC's decision to grant a lower increase of 4 cents for concession fares, the Government has also decided to cap the fare adjustment at 4 cents for Lower-Wage Workers (LWW) and Persons with Disabilities. This will increase the discount enjoyed by LWWs from up to 20% currently, to up to 25% off adult fares, and benefit 211,000 LWWs on the government-funded scheme.
"Our bus and rail systems are improving. Public transport systems in many countries face the challenge of narrowing the gap between operating costs and fare revenue. Some of these countries adopt a more purist approach in balancing cost and sustainability. This is not our approach. The government, public transport operators, and commuters are stakeholders here. We have a transparent and objective fare formula that allows us to cap the fare increase and balance sustainability with fare affordability for Singaporeans. We also considered that the Government continues to finance the public transport infrastructure heavily, and provide financial assistance for the lower-income households. I think we have arrived at an equitable, carefully calibrated and delicate balance in our fare decision," said Mr Richard Magnus, Chairman, Public Transport Council.
Annex A: Fare Saving for Polytechnic and other Diploma Students
Annex B: Factsheet for 2019 Fare Review Exercise
Annex C: Approved Bus and Train Fares
[*] Besides the improvement in monthly public transport expenditure as a percentage of household income, the 2019 Deloitte City Mobility Index also ranked Singapore as a "top performer" in overall transport affordability among 55 cities studied (including public transport, price of fuel, and parking).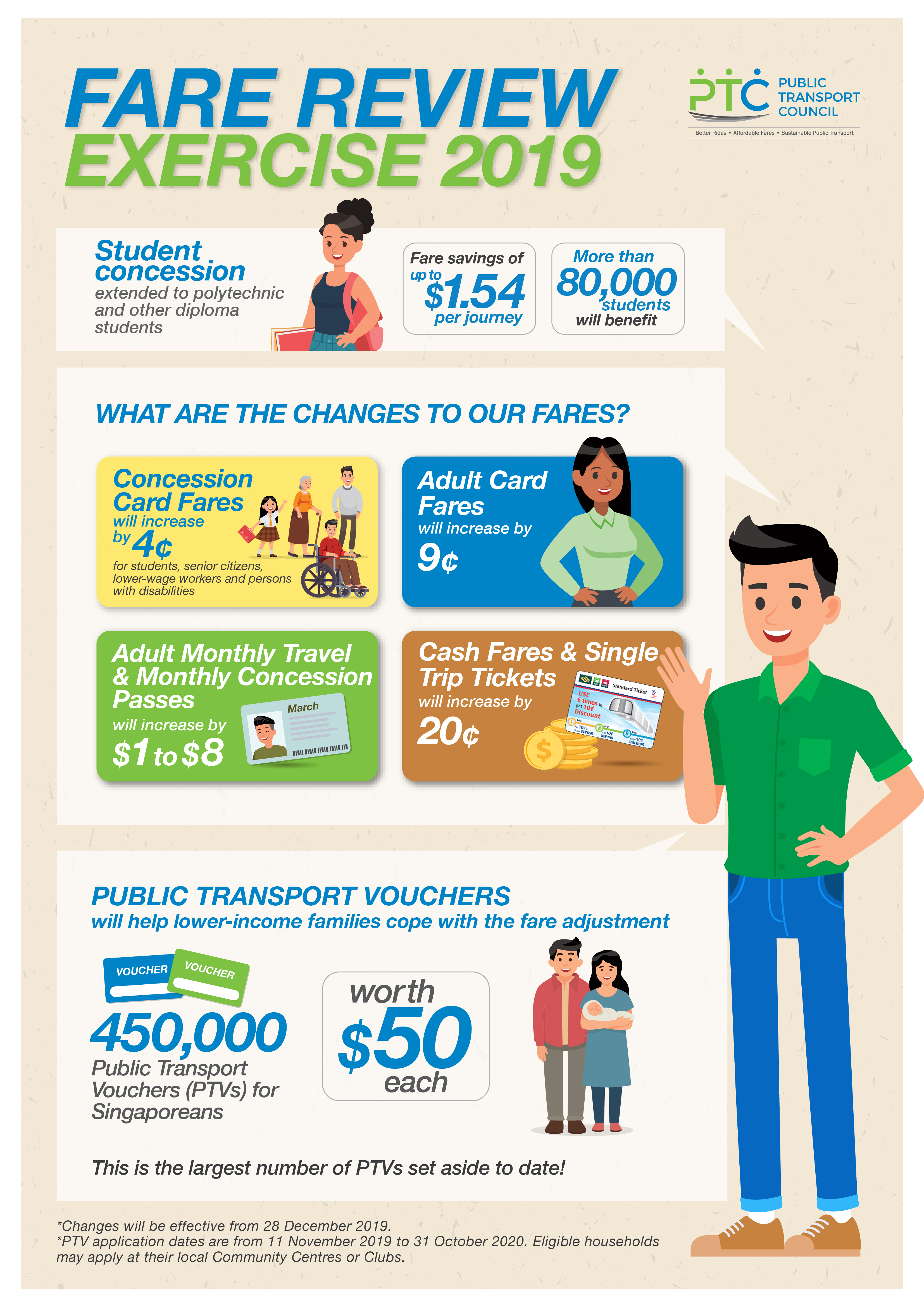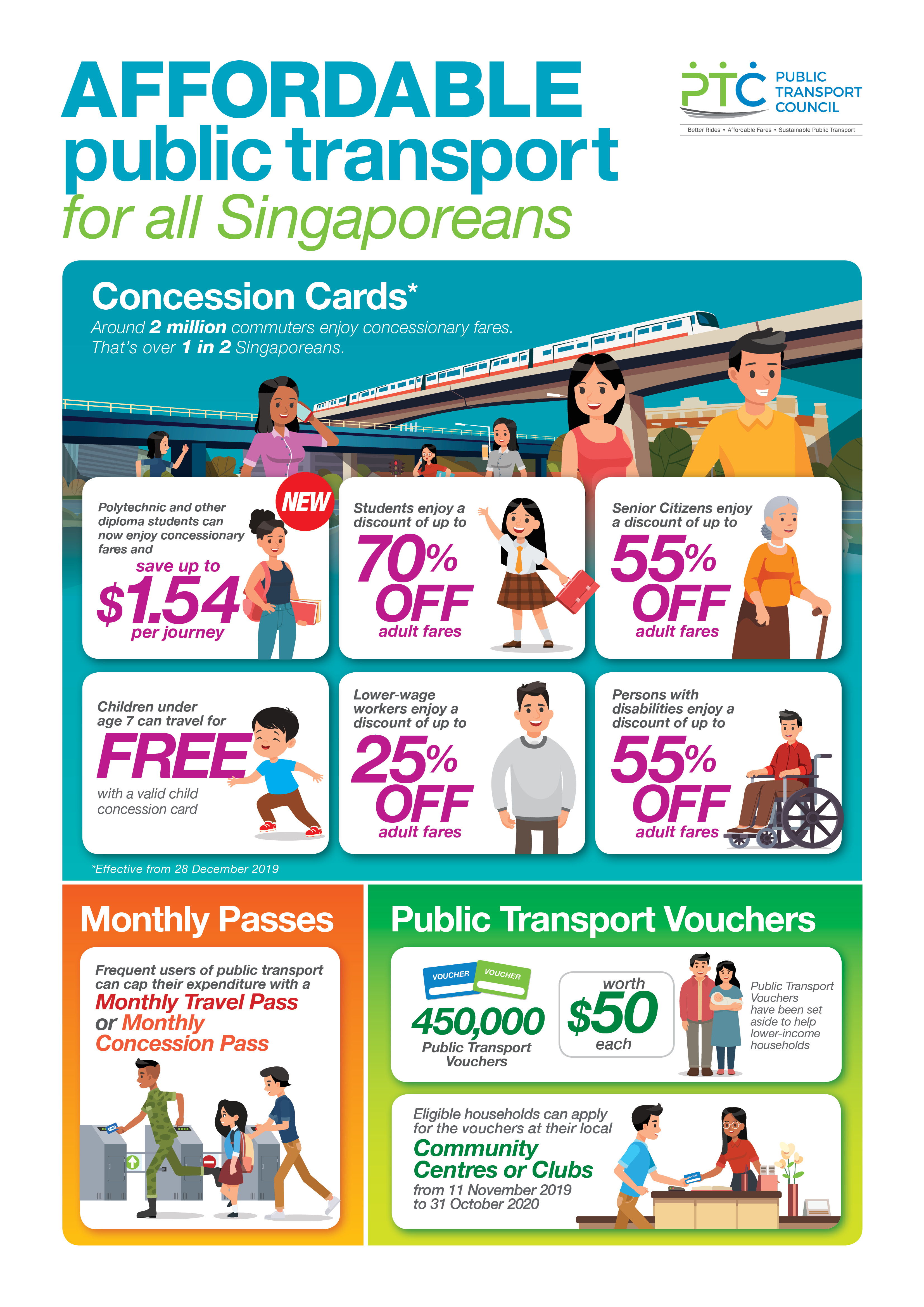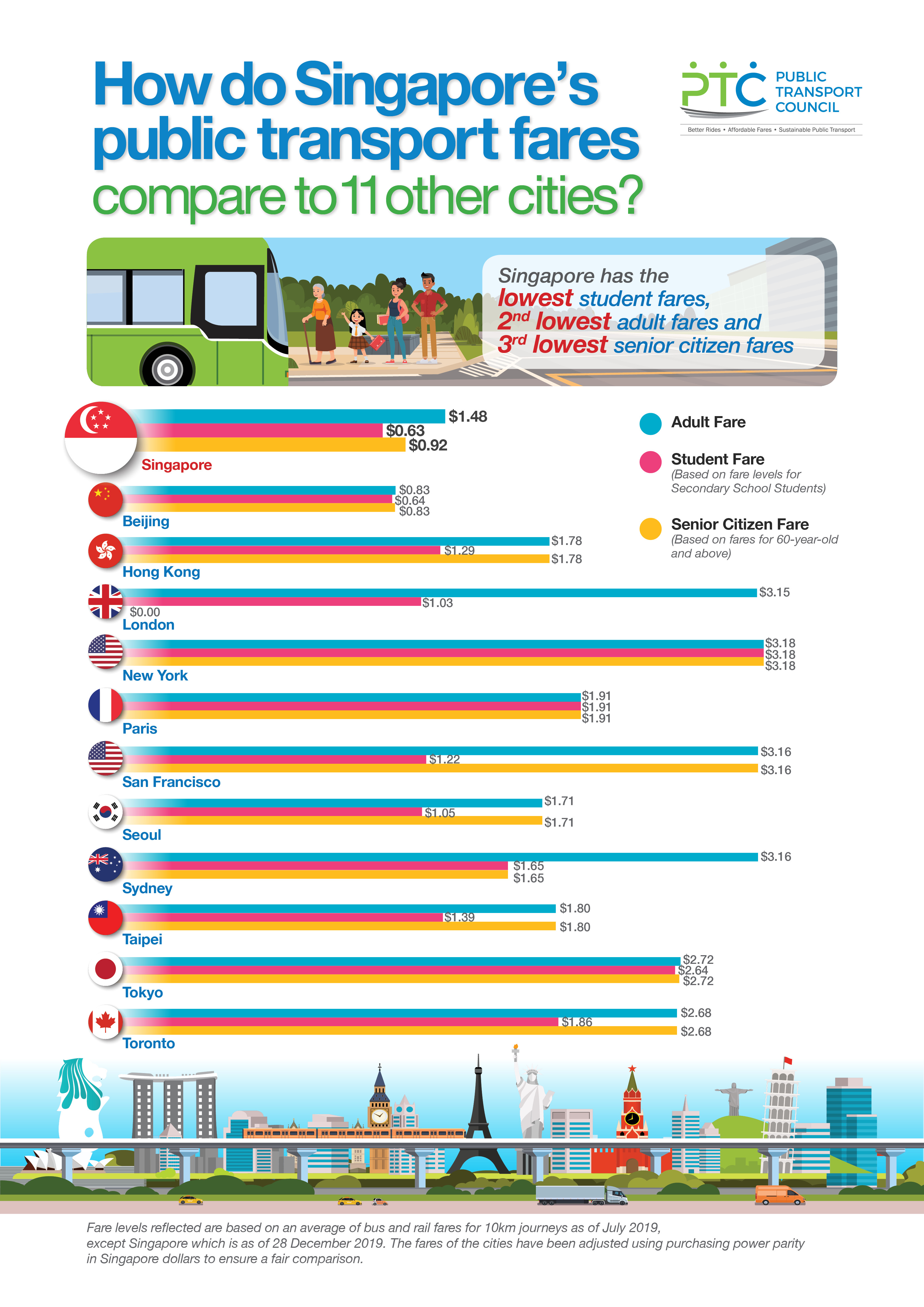 Download FRE2019 Conclusion Press Release Annex A B C (PDF, 804 KB)