2018 Fare Review Exercise
Date: 30 October 2018
Card fare increase of 6 cents for adult commuters
Fare increase capped at 1 cent for concessionary commuters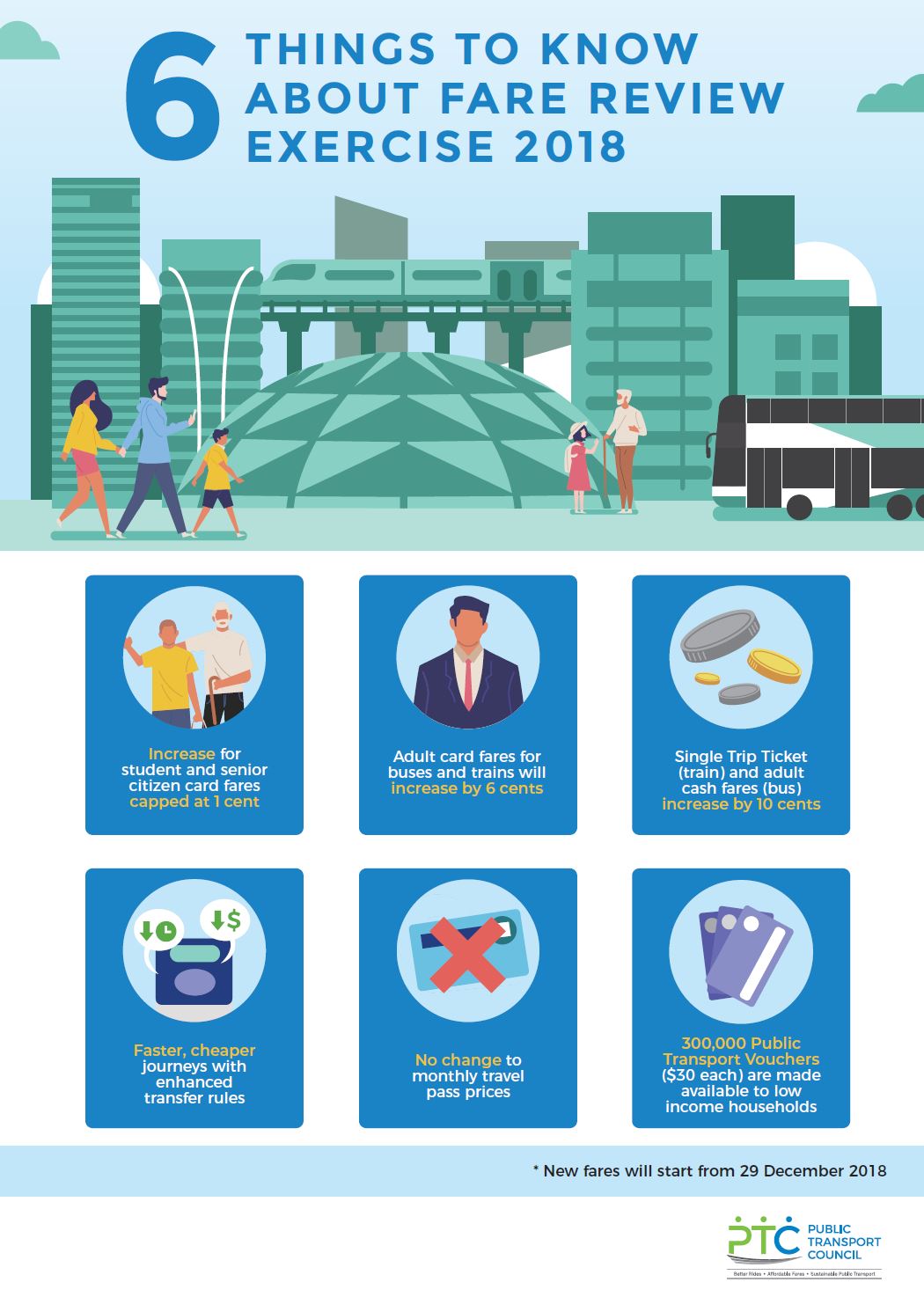 The Public Transport Council (PTC) has concluded the 2018 Fare Review Exercise (FRE). Its decision involved a delicate balance between fare affordability and rising operating and maintenance costs of public transport operators. In addition, targeted financial assistance will be provided to eligible low income families.



Summary of 2018 FRE changes

2. Following three consecutive years of fare reductions totalling 8.3%, the fare cap of 4.3% (announced by the PTC earlier on 3 Sep 2018) will be implemented as part of 2018 FRE. Card fares for adults travelling on buses and trains will increase by 6 cents. Single trip ticket for train and adult cash fares for bus will increase by 10 cents. Student and senior citizen card fare increases will be capped at 1 cent. The PTC notes that the Government has also decided to cap the fare increase at 1 cent for the Lower-Wage Workers and Persons with Disabilities concession schemes, which are Government-funded.

3. The fares for commuters on our public transport, with effect from 29 December 2018, are set out below: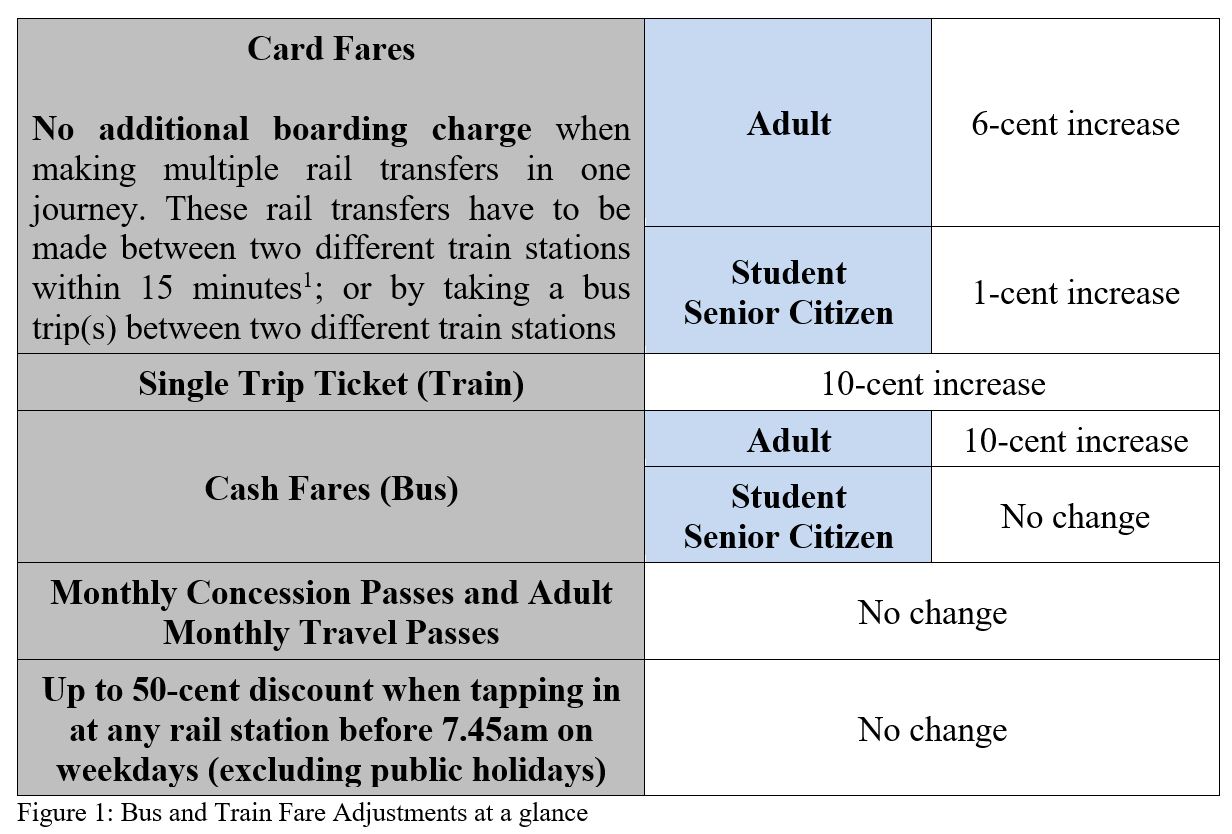 4. Frequent travellers using Monthly Concession Passes – students, senior citizens, full-time national servicemen, and adults – will see no increase, as the prices of these passes will remain unchanged. PTC notes that the Government has similarly decided to keep the price of the Monthly Concession Pass for Persons with Disabilities unchanged.

5. Commuters will also continue to enjoy the 50-cent savings when they travel during morning pre-peak hours by tapping-in before 7.45am at any rail station island-wide. More than 335,000 commuters have benefited daily from the morning pre-peak travel discounts since it was introduced in December 2017. The savings enjoyed by commuters in the first half of 2018 was around $19 million.
6. The 2018 FRE decision is necessary in a rising cost environment:
• Energy prices rebounded by 26.2%, the highest since the Energy Index was introduced in 2013;
• Wage Index went up by 3%;
• Core Consumer Price Index rose by 1.5%; and
• Additional costs to improve connectivity and network capacity by running more public transport services.

7. Both rail operators have also reported significant losses. These cost pressures have also been faced by other cities which have had to raise fares to keep pace with the operating cost increases.

Public transport fares will remain affordable
8. The PTC will continue to ensure that public transport fares remain affordable. The Public Transport Affordability Indicator (PTAI), which measures the percentage of household income spent on public transport, indicates that public transport fares have become more affordable over the last decade. Since 2007, the average commuter (second quintile income households) and lower income commuters (second decile income households) have seen their PTAI improve from 2.9% to 1.9% and 4.1% to 2.7% respectively (See Annex A). PTC will continue to monitor fare affordability trends through the PTAI and other benchmarking studies
2
.
9. Findings from PTC's surveys of more than 10,400 commuters, conducted from July to August 2018, also showed that more than seven in 10 found public transport fares in Singapore affordable. Six out of 10 commuters, when asked, said they were willing to pay higher fares if there was a fare increase, so that others like Persons with Disabilities, seniors and students, would be less affected.
Targeted assistance for needy commuters
10. As part of the 2018 FRE, SBS Transit and SMRT will be required to contribute 5% of their expected increase in fare revenue ($0.55 million and $1.2 million, respectively) to the Public Transport Fund. The PTC notes that the Government will utilise the Public Transport Fund to make available 300,000 Public Transport Vouchers (PTVs), worth $30 each, to help lower income families cope with the fare adjustment.
More efficient travel for commuters
11. The expansion of our public transport network, such as with the opening of new train lines, has allowed commuters to take more efficient travel routes, saving time and money. On average, the distance travelled by adults, students, and senior citizens has shortened by 5%, 10% and 5% respectively. Correspondingly, the average journey fare for adults, students and senior citizens has reduced by 7%, 10% and 5%
3
.
12. To further facilitate more efficient and seamless public transport journeys, the PTC had announced in March this year that the additional boarding charge for commuters who make multiple rail transfers will be removed. These enhanced transfer rules will take effect together with the fare adjustments for the 2018 FRE on 29 December 2018.
13. With the enhanced transfer rules, commuters will have more flexibility to optimise their public transport travel to save cost and/or time. At least 6,000 daily journeys will benefit from the changes. PTC expects more commuters to benefit from the enhanced transfer rules as they adjust their travel patterns to capitalise on the improved connectivity of our expanding public transport network.
---
[1] The time limit for valid transfers between bus and rail will remain at 45 minutes.
[2] Besides the PTAI, a June 2018 report by consulting firm McKinsey also found that Singapore has one of the best and most affordable public transport systems compared with 24 major cities around the world, which include Hong Kong, Seoul and Beijing. Additionally, a 2018 Nanyang Technological University study showed that a typical Singapore family spend only 4.8% of their disposable income on public transport, the lowest among Asian cities.
[3] The statistics in Paragraph 11 were based on data collected from 2015 to 2018.
Download fre2018-conclusion-press-release-(181030-1338) - A (PDF, 727 KB)