Ms Lee Huay Leng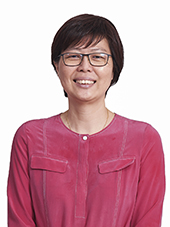 Ms Lee heads the Chinese Media Group of Singapore Press Holdings, which includes Lianhe Zaobao, Lianhe Wanbao, Shin Min Daily, the digital platform Zaobao.sg and radio UFM100.3.
She started her journalistic career in Lianhe Zaobao in 1994 upon graduation. She was with the paper for 20 years in different roles as sports reporter, political reporter, Hong Kong correspondent, Beijing Bureau Chief, China Editor, News Editor and Deputy Editor.
Ms Lee is also active in the public sphere, serving as a member of Founders' Memorial Committee and Lifelong Learning Council. She is also board director of the National Kidney Foundation and Governor of Singapore International Foundation, as well as an active alumna of her alma mater.