Fare Evasion
Regulatory Framework
Deterring fare evasion on public buses and trains
Fare evasion occurs when a commuter does not pay the bus or train fares required when travelling or attempting to travel on the public transport. We take a serious view of such fare evasions. Although each instance of fare evasion may seem small, when taken collectively, such fare evasions can result in significant fare leakage.

Together with our agency partners - the Land Transport Authority, Transit Link and the public transport operators - a penalty fee system was introduced in 2008. The aim of this system is to provide the necessary safeguards to prevent fare leakage and revenue loss, which in turn protect the majority of commuters who pay the correct fares.

Under the penalty framework, commuters who are caught for acts of fare evasion will face the corresponding penalty fees:
| | |
| --- | --- |
| Forms of fare evasion | Penalty Amount |
| Non-payment of fare | $50 |
| Non-tapping in / out of smartcard | $50 |
| Non-entitlement to concession | $50 |
| Invalid ticket (under-payment) | $50 |
| Invalid ticket (misuse of non-transferable ticket) | $50 |
Public Transport Officials, who are employees of the public transport operators, are appointed by PTC to take enforcement actions against fare evasion. These Public Transport Officials are authorised to inspect commuters' tickets to ensure proper fare payment, take enforcement action, and to collect penalty fees. These Officials also have the power to retain concession tickets if the tickets are found to be invalid, or are believed to have been misused or tampered with.
Commuters who are caught evading fares will be required to pay a penalty fee. Commuters imposed with penalty fee can lodge an appeal with PTC, if they feel that they have valid grounds for such appeals.. All appeals must be submitted in writing to the Public Transport Council, Penalty Fee Section c/o 10 Sin Ming Drive, Singapore 575701. Alternatively, for an e-appeal, please click
here
. All appeals will be carefully evaluated and investigated by the PTC.
Public Education
Do you know if you are currently paying fares correctly? Here are some tips to help you avoid fare evasion which may occur in the manner of underpayment, non-payment, failure to tap in and out, and the misuse of concession or non-transferable tickets.

On public buses
• Paying in cash
- Check ahead to find out what is the correct fare.
- Keep your paper ticket throughout the bus ride, as proof of payment.
• Using a smartcard
- Tap your card when boarding.
- Tap your card when alighting at your destination.
- When tapping your smart card, do ensure that you see a green light and hear a single beep tone (two beeps in the case of a concession card).That means that you have tapped your card correctly.

On the MRT/ LRT
• Tap your card at the card reader of the entry fare gate.
• Tap your card at the card reader of the exit fare gate.

For Concession Card holders
• Use a concession card that belongs to you. As concession cards are not transferable, don't use someone else's card
• If you are paying a concession fare using cash for bus rides, do let the bus driver know. Then tap your concession card at the reader to verify the validity of the card, before you drop your cash into the fare box.
• If you have a monthly concession pass, you are still required to tap your card when boarding and alighting from buses. This is a good habit to cultivate as making a 'valid exit' ensures that you'll qualify for transfer fares in the event that you are not using your concession pass.
• If you forget to bring your concession card or if your concession card has expired, please pay the adult cash fare or use a valid smartcard.
Appeal Form
Please click here to file appeals against the imposition of penalty fee for underpayment and non-payment of bus and train fares, and misuse of concession cards.
Statistics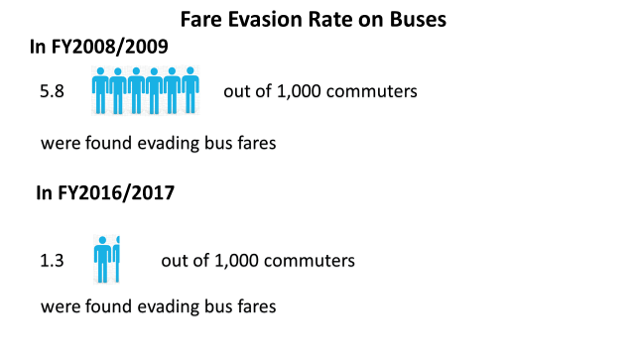 Since the introduction of the penalty fees in 2008, the fare evasion rate on buses has stayed consistently low, showing that such regulation has effectively deterred acts of fare evasion. In 2016, the penalty fee was increased for commuters who underpay or fail to pay their fares. PTC will continue to review the effectiveness of the current penalty fee framework and will introduce enhanced measures where necessary.