"The Best Valentine's Day I've Had": Youth Corp Singapore Volunteer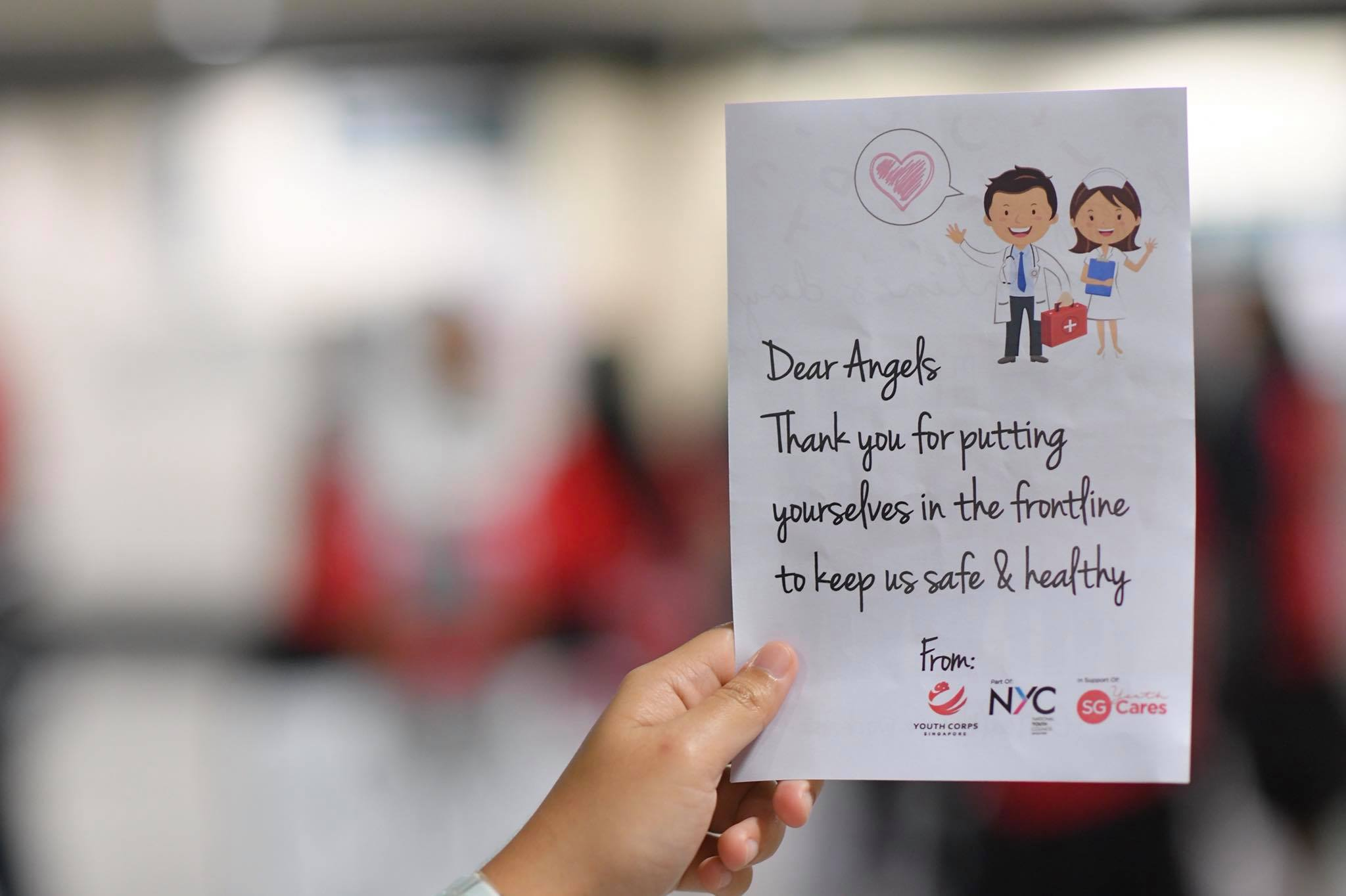 Have you had one of those days where you find yourself on the commute to work, mentally preparing yourself for another trying day at the workplace?
Would you appreciate it if you were greeted by a volunteer when tapping out at the MRT gantry, with all smiles and handing you a care pack, thanking you for all your hard work?
That was what public transport and healthcare workers were treated to on 14 Feb 2020 as they were heading to and from work shifts.
Wanting to show that they care and appreciate our frontliners, Youth Corps Singapore volunteers gave out care packs at Heart Zone @ Outram Park on a day where people customarily show feelings of love, affection and friendship – Valentine's Day!
Youth Corps Singapore, under the National Youth Council, is the national platform for youth volunteerism, where youths connect with like-minded peers and contribute to various social causes towards a caring and cohesive society.
PTC had an opportunity to speak to three volunteers - Swathi Lakshmi and Toh Jia Ze, both 23 years old and Youth Corps leaders as well as Chin Jun Wuen, a 21 year old Youth Corps member.



How was your experience giving out care packs on Valentine's day? How did the activity make you feel?
Swathi: It was the best Valentine's day I've had. I don't know how to describe the feeling, but it felt really great to be able to meet some of the healthcare workers and to thank them for their efforts and dedication.
Jia Ze: It was a meaningful experience giving out the care packs and interacting with many healthcare workers. I am grateful to be able to contribute in a small way. I hope that the healthcare workers felt the love on Valentine's Day, that people care for them! It was also heartening to see Minister Khaw coming down to support us!
Jun Wuen: The looks of surprise which quickly turned into wide grins and a slight sparkle in their eyes - those were the moments that I'd remember for the rest of my life. Knowing that I've made a small difference filled my heart this Valentine's. It was also really inspiring to see people across the different sectors of Singapore banding together for the common purpose of appreciating our frontline heroes. While I had the opportunity to give out the care packs, this would not have been possible without the staff and volunteers who worked behind the scenes to coordinate the logistics, secure the locations and pack the care packs. Together, we are in the position to champion a caring and cohesive society.
Share with us an interesting encounter you had with any healthcare or public transport worker during the distribution.
Swathi: One of the commuters at the MRT station was a husband of a nurse. He came down to the hospital to pass lunch to his wife and he was very happy to see our efforts. He mentioned that he doesn't get much time with his wife, who works shifts, and hence he had to come visit her during lunch. Interestingly, he was a social worker himself and was planning programmes to collect masks and other supplies from his community/where he worked to share with families that really need it.
Jia Ze: I was pleasantly surprised when some healthcare workers kindly declined and told us to give the care packs to others. It was very thoughtful of them to think of others, and this is something that we can learn from them.
Jun Wuen: There was a healthcare worker who came back 15 minutes after receiving the care pack with a box of pastries for us! Within this simple action of hers was a powerful message - that kindness is infectious. Everything we do has the potential to make a difference in the lives of the people around us. Our acts of compassion can create a ripple effect that goes well beyond us, and sometimes, even back to us.
As a commuter yourself, what exemplary behaviour do you hope to see more of in Singaporeans on public transport during this period, and even beyond this virus season?
Swathi: I hope that we can try to overcome our fears and help one another.
Jia Ze: I hope Singaporeans continue to be considerate, such as wearing a mask if they are unwell, and offer seats to those who need it more. This is important regardless whether there is a virus or not. Let's be kind to one another.
Jun Wuen: Now, more than ever, is the time when we should stand together as a nation and support one another. We can all play a part by showing our appreciation to the frontline heroes we see on the public transport. Don't underestimate the power of a small smile and a quick 'thank you' - for sometimes the smallest gestures can make the largest impact.
---

Please visit www.moh.gov.sg/covid-19 for latest updates on the COVID-19 situation.