Chairman


Mr Richard Magnus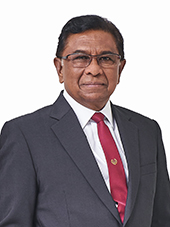 Mr Magnus was appointed as Chairman of the Public Transport Council (PTC) on 1 May 2014. He had served on the Council since February 2012 and led the Fare Review Mechanism Committee (FRMC) which undertook a review of the public transport fare review mechanism and fare concessionary framework. The FRMC's recommendations were accepted by the Government in November 2013 and have been implemented in stages since then. The fare review mechanism clinched the esteemed International Association of Public Transport's (UITP's) "Smart Financing and Business Model" finalist award at the 61st UITP World Congress & Exhibition in Milan.

Under the leadership of Mr Magnus, the PTC was re-constituted as a body corporate in January 2016, and we have since assumed a new role as an Advisor to the Minister for Transport. The PTC inaugural Advisory Report, which was presented to the Minister in August 2016, was well received by both the Government and members of the public. Our recommendations had helped to improve commuters' public transport travel experience.

Before joining PTC Mr Magnus was Board Director of the Land Transport Authority. He also chaired the Downtown Line's Financing Committee whose proposals were accepted for implementation. On 17 October 2016, Mr Magnus was appointed as the Chairman of UITP Asia Pacific Organising Authority Platform.

Mr Magnus is also Chairman and Board Director of several private companies and bodies. He is Singapore's First Representative to the ASEAN Inter-Governmental Commission on Human Rights; Vice-Chairman of UNESCO's International Bioethics Committee; as well as a Member of the Public Service Commission and the Ministry of Home Affairs' Independent Review Panel.

For his contributions to Public Service, he was conferred the Public Administration Medal (Gold) (Bar) in 2003, the Meritorious Service Medal in 2009 and the Public Service Star Medal in 2015. Mr Magnus is most recently appointed as Adjunct Professor for the School of Law, Singapore University of Social Sciences.